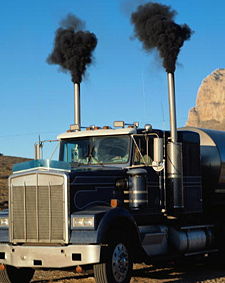 Dieselmotorer kan nu få effektivare förbränning. EU:s EUREKA CYPRESS projekt har tagit fram en sensor. Förbränningen kan optimeras. Mer på engelska från EU:s nyhetsbrev för Aktionsplanen för Miljöteknik. Integral cylinder pressure sensor cleans up diesel engines. It can cut nitrogen oxide (NOx) and soot particle emissions from car diesel engines by up to 90%. 
Diesel cars can now meet new EU and US emissions standards with reduced need for excessively expensive NOx filters.                      
Diesel cars are popular in Europe and around the world. But ever stricter emissions standards required more efficient control of fuel mixing and injection to optimise combustion. Development and integration of a piezo-resistive pressure sensor in the glow plug used to speed start up of the diesel engine has now made it possible to provide direct monitoring of combustion conditions in the cylinder. The resulting electrical output can be fed to the engine's electronic control system to optimise operations, resulting in much lower emissions and better fuel consumption.
The new sensor had to be robust and reliable to withstand the harsh temperatures – up to 900°C – and vibration conditions found in the engine cylinder. "Combining the cylinder pressure sensor with the glow plug meant no significant change was necessary to the engine structure – and the glow function does not affect the measurement operation," explains Dr Arjan Kölling of sensor manufacturer Sensata Technologies in the Netherlands and coordinator of the € 2.6 million, 27-month CYPRESS project. Moreover, the glow plug sensor unit is easy to design-in as a screw-in replacement for the existing glow plug.
This new cylinder pressure sensor is the first of its kind to be sufficiently reliable and economic for mass production. German project partner BERU has already started to manufacture and market pressure sensor glow plugs incorporating Sensata sensors at its Ludwigsburg headquarters. The first engines using these plugs are already being exported to the USA. And there is tremendous interest from European car manufacturers to incorporate these innovative products in their cars to meet forthcoming EURO 5 and EURO 6 emission standards.

: