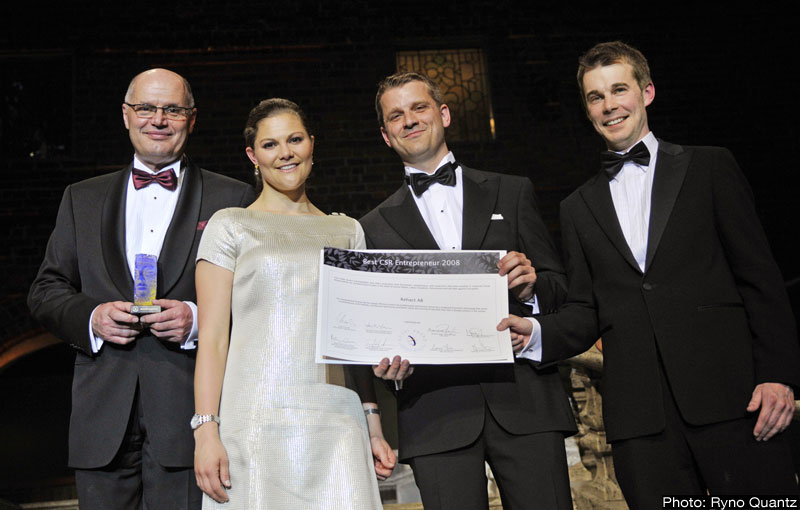 HKH Victoria delar ut Sustainaiblity Innovation Award den tredje juni. Det är en del av Globe Award som ordnas vid Globe Forum. Globe Award delas i år ut för tredje gången. Det vill uppmärksamma och belöna de bästa lösningarna och initiativen inom hållbar utveckling. Priset delas ut i fyra kategorier: Sustainability Research, Sustainability Innovation Award, Sustainable City Award och Sustainability Reporting Award.
En innovation är ju till sin natur disruptiv. Ordet hållbar i samband med innovationer blir ju då lite speciellt. Men förra året tilldelades vår länk,  EnergiSparTakKylFotVarm, Rehact AB, priset ur Kronprinsessans hand. Bilden är från deras hemsida. Du ser CTO Jerzy Hawranek, Kronprinsessan CEO Svante Bengtsson and Sales Manager Staffan Mastling. Detta är ett utmärkt tillfälle att skaffa PR för Din innovation. Bara att bli nominerad är ett stort steg i rätt riktning. Det kostar inget att söka. Det hoppas jag alla miljöinnovatörer gör. Ansökan ska göra senast 26 april. Det spelar säkert stor roll om den är välskriven. Så förberd Dig minst en vecka innan! Klicka här för lite mer information och länk till ansökan.
Att delta i själva eventet kostar skjortan. Jag begriper inte att det ska vara nödvändigt att ta så mycket betalt. Därför har inte jag anmält mig. Men om du blir nominerad kanske Du blir bjuden?
Globe Award 2009 blir nu större och mer betydande än någonsin då nomineringar från hela världen välkomnas. Juryn med internationella toppnamn inom hållbar utveckling, borgar för att de mest nytänkande och visionära forskarna, innovatörerna, städerna och företagen lyfts fram.
– Det är nödvändigt att stödja forskning och innovation för att hitta lösningar på nu kända problem med bäring på klimatfrågan, fattigdomsbekämpning och välfärdsutveckling. Ett Globe Award demonstrerar proaktivitet och bästa praxis i de största utmaningar vi någonsin stått inför, säger Globe Awards ordförande Lars-Olle Larsson, Partner i PricewaterhouseCoopers.
Så här beskriver hemsidan Sustainable Innovation Award på engelska:
The World Commission on Environment and Development (Brundtland Commission) defined sustainability as "[Meeting] the needs of the present without compromising the ability of future generations to meet their own needs." and the OED defines innovation as "The introduction of novelties; the alteration of what is established by the introduction of new elements or forms." These are but two of the myriad of definitions for the terms sustainable and innovation, terms which represent broad concepts that have vastly different meaning depending on the context in which they are applied. While we may think of innovation as being primarily "product", there are in fact four domains (each having modular and systemic aspects): Technical, Biotic, Social, Conceptual. Rather that provide rigid definitions for the Sustainable Innovation category of Globe Award, we choose to offer applicants wide latitude in their submission. To this end, we offer 6 sequential criteria which will be used to evaluate and judge candidate sustainable innovations: prime, prosperity, people, planet, perpetuity and principle.
Prime: Is it a genuine innovation?
Prosperity: Is it economically viable?
People: Is it socially viable?
Planet: Is it ecologically viable?
Perpetual: Is it renewable into perpetuity?
Principle: Is it ethically viable?"
Gå till www.globeaward.org ock klicka på Sustainable Innovation Award. Kom ihåg att allt ska vara kalrt den 26 april. Nomineringarna offentliggörs den 5 maj. Priset delas ut den 3 juni i Stockholm av H.K.H. Kronprinsessan Victoria.