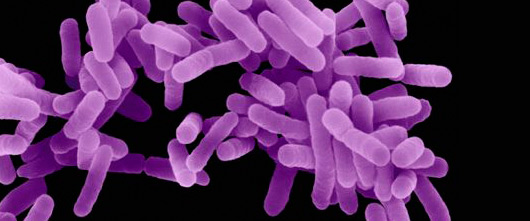 Vilken fullträff för bloggen Miljöinnovation och för Sverige. Fyra av de fem nominerade för Globe Sustainability Innovation Award är med bland våra svenska länkar. Länken BioNedbrytFlamskydd, Deflamo är också med i slutspurten av nätröstningen om april månads bästa miljönyhet. Du har väl röstat? http://evolveu.bloggsida.se/miljoinnovationer/april-basta-cot-deflamo-opcon . 
De andra länkarna är Däckåtervinning, Scandinavian Eviro Systems, HögUtbytesBiomassaGas, Cortus och LjusRenarVatten, Wallenius Water. Bilden från Wallenius Waters hemsida illustrerar att metdoden fungerar för Legionella-bakterier.  Klicka här för GlobeForums presentation på engelska av de nominerade företagen samt ceremonin och av juryn ur deras pressmeddelande.
Five prominent innovators have been nominated for the Globe Award Sustainability Innovation Award 2009. The Innovation Award – one of four categories of the Globe Award 2009 – is given for original research which successfully contributes to increased knowledge on sustainability. One finalist will be presented on June 3rd, and awarded by H.R.H. Swedish Crown Princess Victoria, at a ceremony in the Winter Garden of Grand Hotel in Stockholm, Sweden.  The nominees for the Globe Sustainability Innovation Award:
Cortus AB: Cortus has developed a way to produce large amounts of energy in an inexpensive and environmentally friendly way. Their process converts biomass into gas with a very high energy value. It provides a renewable energy source. It also provides a source of energy that is not based on fossil fuels rather taking a step forward into a climate-friendly and sustainable future. Based in Kista, Sweden. www.cortus.se 
 Deflamo: Apyrum® is a biomimetric, environmentally-friendly, cost-efficient, and totally biodegradable flame retardant that is an alternative to toxic flame retardants. It has the potential to reduce the environmental impact of myriad other products enabling them all to become more sustainable. Based in Sollentuna, Sweden. www.deflamo.se 
Scandinavian Enviro Systems: Carbonizing by Forced Convection is a technology that thermally breaks down any organic material in a closed, controllable, environmentally friendly system. The result is highly efficient recycling of complex and traditionally difficult to recycle products. For example using this system, worn out tires can be processed to produce high quality products (Carbon Black, oil, steel and gas) in an environmentally friendly, profitable and energy efficient process. The result is improved sustainability by optimizing the cradle-to-cradle lifecycle. Based in Gothenburg, Sweden. www.envirosystems.se 
Tesla Motors Inc: Tesla Motors designs, manufactures and sells 100% electric cars and advanced electric vehicle components. The Tesla Roadster is the first vehicle to integrate zero petroleum consumption, high energy efficiency, and great driving performance. Tesla is changing the metaphor of the automobile industry by mass-producing sustainable zero-emission vehicles. Based in San Carlos, California, USA. www.teslamotors.com 
Wallenius Water: Wallenius AOT is a unique Swedish water purification technology that works like a natural microbiological barrier. The chemical free method imitates nature's way of purifying, using free radicals, nature's own "cleaners", to effectively break down organic and inorganic substances as well as bacteria, viruses and mould. Wallenius enables sustainable water purification at scale. Based in Stockholm, Sweden. www.walleniuswater.com  
The goal of the Globe Award, this year presented for the third time, is to discover and encourage researchers, innovators, cities and companies prominent in sustainable development. Globe Award's mission is to highlight and reward good cases and initiatives within sustainability.
 The jury consists of highly experienced and internationally recognized experts. Chairman of the jury group for the best Globe Award's Sustainability Innovation Award is Philip DesAutels, Director Microsoft.
– The response to the Globe Award's Sustainability Innovation Award has been outstanding. Applications have been received from 13 different countries and the applicants represent the very best of the world's sustainable innovators. The Jury faced the challenge of delightfully daunting deliberations, drawing on the award guidelines to select the five finalists. The passion and achievement of all applicants to the Sustainable Innovation award stands as a beacon to the potential of our sustainable future, says Philip DesAutels, Chairman of the jury for the Sustainability Innovation Award.
The Jury has offered six sequential criteria which have been used to evaluate and judge candidate sustainable innovations: 1) Prime: Is it a genuine innovation? 2) Prosperity: Is it economically viable? 3) People: Is it socially viable? 4) Planet: Is it ecologically viable? 5) Perpetual: Is it renewable into perpetuity? 6) Principle: Is it ethically viable?
The Jury:
Philip A. DesAutels, Chairman, Microsoft's manager of Academic Evangelism, USA. Researcher at Bentley University.
Dr. Pierre Berthon, Holds the Clifford F Youse Chair of Marketing and Strategy at Bentley University, MA, USA.
Charlotte Masiello-Riome, Communication Expert Consultant for the Food and Agriculture Organization of the UN.
Leyland Pitt, Professor of Marketing, Segal Graduate School of Business, Simon Fraser University, Vancouver, Canada. Senior research Fellow, Leeds University Business School, the UK.
Rias van Wyk, Prof. and Director of Technoscan® Centre Minnesota, USA, and a former Director of the Management of Technology (MOT) program, University of Minnesota.