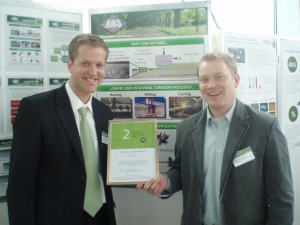 ANS – Applied Nano Surfaces är vår länk Minifriktionsyta i kategorin EffektEnergi/Mtrl i höger spalt. Nu har de med stöd av VINNOVA skapat industriella samarbeten 😀 som kan få avgörande betydelse för deras kommerssiella utveckling.  Partners är Finnveden Powertrain och Atlas Copco Secoroc.  De ska pröva ANS' unika lågfriktionsteknik i drivlinor och i bergborrningsutrustning.
De kom tvåa i tävlingen Miljöinnovation 2008. Min bild är från det tillfället med VD Mattias till vänster och Uppfinnare Nils till höger. Redan då gav de ett proffsigt intryck. Men nu till det som kan vara och lönsamt för Dig. Företaget utlyser ett pris för namnförslag på engelska. Klicka här för Din chans att vinna en fin Ipod och länkar till tidigare inlägg. 
Name contest with a nice prize
The ANS nano-composite coating has excellent properties in terms of low friction and superior wear resistance. The only problem is the lack of brand name… Our intention is to name the coating and register a global trademark, and we need your help!
The name should have the following characteristics:
-Should be fairly short (3-9 letters)
-Should be possible to register as a trademark
-Should be easy to remember and be "sticky"
-Preferably, but not necessarily, something that is associated with any on the following keywords: nano, durable, friction, wear, coating, environment, industrial, inexpensive, easy…
The prize to the winning name is an iPod Touch 32Gb worth around 3000 SEK. The coolest iPod so far.
Please send your suggestions to namecontest@appliednanosurfaces.com no later than March 20th. The winner will be contacted via email.