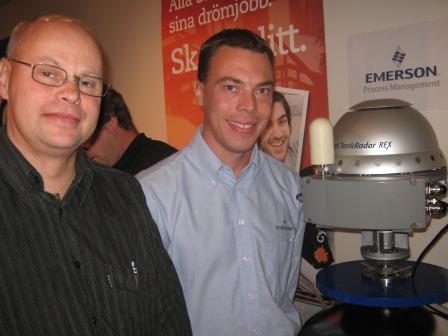 Förutom en dag med härligt höstväder har vi tre glädjeämnen i dag.
Ett:

Nu går den första kommersiella passagerarbåten på bränsleceller på floden Alster i Hamburg.

Två:

KPMG släppte i tisdags en survey som visar att de flesta riskkapitalister och entreprenörer tror på en stark marknad för klimatinnovationer under 2009. 

Tre:

Labb för tillämpningar av nätverk för trådlösa sensorer invigdes i går hos Science Park i Jönköping. På bilden ser Du Anders Jirskog och Mikael Englund för Emerson Process Management som är en av inflyttarna på väg mot miljöinnovationer. 
Klicka här för mer info om dessa ämnen!From the beginning of September 2008, the first commercial fuel cell-powered passenger ship will operate a regular service on the river Alster in Hamburg, Germany. Up to 100 passengers will be able to enjoy each river excursion, without gving rise to any harmful emissions. The Zero Emission Ship LIFE project (LIFE06 ENV/D/000465) aims to demonstrate that a fuel cell ship is already technically feasible and that it can deliver zero emission solutions for ecologically sensitive inland waterway and ports.
The core element of the new ship, the innovative hybrid fuel cell propulsion system, was developed by the Proton Motor Fuel Cell GmbH. Its CTO, Felix Heidelberg stated: "The FCS Alsterwasser is nearly twice as efficient as a conventional diesel powered ship. That is a prime example for innovation that we are proud of."
A hydrogen fuelling station for the ship was developed and built by Linde AG. Dr. Aldo Belloni, a member of the Linde AG board said: "As a precursor of the hydrogen technology, we want to enable environment friendly, hydrogen-based mobility in every sector. With this globally unique service station we can show that hydrogen is perfectly suited as an emission free fuel for passenger ships."
Mer info: http://www.zemships.eu/en/news/press-releases/launch.php 
Det framgår inte tydligt av information jag har tagit del av, men denna survey avser nog USA-företag. Investors Bullish on 2009 Greentech Deals. A KPMG survey finds that venture capitalists, entrepreneurs and others expect more fundings for energy storage, wind and clean coal.
About half of the survey respondents said they expect greentech investments to jump by 20 percent or more in 2009, while 34 percent of respondents see an increase between 10 percent and 19 percent from 2008 to 2009, the survey showed.
KPMG polled 301 VCs, company executives and bankers. The respondents believe investments will go to a variety of greentech sectors in the next two years: 15 percent of those polled said energy storage would get the most funding, while 14 percent expect investments to favor clean coal and another 14 percent expect wind to lead the charge. Eleven percent of the respondents pegged alternative fuels as the most attractive, while 10 percent named solar.
The turmoil in the financial market has raised concerns about the ability of solar and wind companies to raise large rounds for building power plants in the near term. But venture capitalists have continued to make large bets in greentech, however. For example, thin-film solar startup Nanosolar received a whopping $300 million last month while eSolar raked in $130 million in April. In spite of the growing funding, 67 % of the resepondents said they don't foresee a general investment bubble.  
KÄLLA: http://www.greentechmedia.com/articles/investors-bullish-on-2009-greentech-deals-1451.html
Science Park i Jönköping inviger ett nytt WSN ApplicationLab. WSN = Wireless Sensor Network. Vännerna på bilden ovan jobbar också för Saab och Rosemount. De står bredvid en tankgivare som automatiskt kan mäta innehållet i en tank. Det gör det lättare att kontrollera risken för läckage. Med trådlös tillämpning blir det lättare att kontrollera i alla tankar då man slipper ledningar för att överföra resultaten. Det gäller särskilt avsides belägna tankar. Det är vad de utvecklar i WSN-labbet.
Som medlem i WSN ApplicationLab är man en del av regionens kunskapsnätverk inom trådlös inbyggd elektronik. Medlemmar kan hyra EMC-labbet med tillhörande specialist för egna mätningar och utvecklingsarbete samt i samverkansprojekt med Jönköpings Tekniska Högskola, testa och utveckla tekniker för RFID-lösningar och trådlösa  sensornätverk.
Till WSN ApplicationLab är forskarmiljön kopplad med labb för EMC-, antenn-, och termomekaniska simuleringar. Med teoretiska analyser och praktiska mätningar kan man t ex optimera en RFID-antenn för en speciell applikation. Det är ofta ett bra sätt för företag att pröva ny teknik.  Mätlaboratorierna är belägna i ett utrymme som tidigare användes för medicinska strålkanoner. Väggarna och taken är metertjocka och innehåller malm från Taberg.  EMC-labbet skall i första hand användas för konstruktionsverifieringar och då framför allt emissionsmätningar.
Källa: http://www.sciencepark.se/Templates/StartPage1.aspx?PageID=d2039a53-a301-48f7-b4c0-9a942ab91eb1